With Strong Adoption Rate, HydraFiber Celebrates 100th Machine Installation
April 5, 2021
The milestone machine is located at Top 100-ranked N.G. Heimos Greenhouses in Illinois
HydraFiber®, in partnership with AgriNomix®, a leading supplier of innovative, cost-effective greenhouse automation solutions, is celebrating the 100th installation of HydraFiber Processing Equipment, just a few years after a successful market launch. The installations span across North America and abroad, serving growers of all sizes with a renewable, readily available raw material option.
The 100th machine is located at N.G. Heimos Greenhouses in Millstadt, Illinois, a Top 100-ranked operation with more than 2 million square feet of greenhouse production.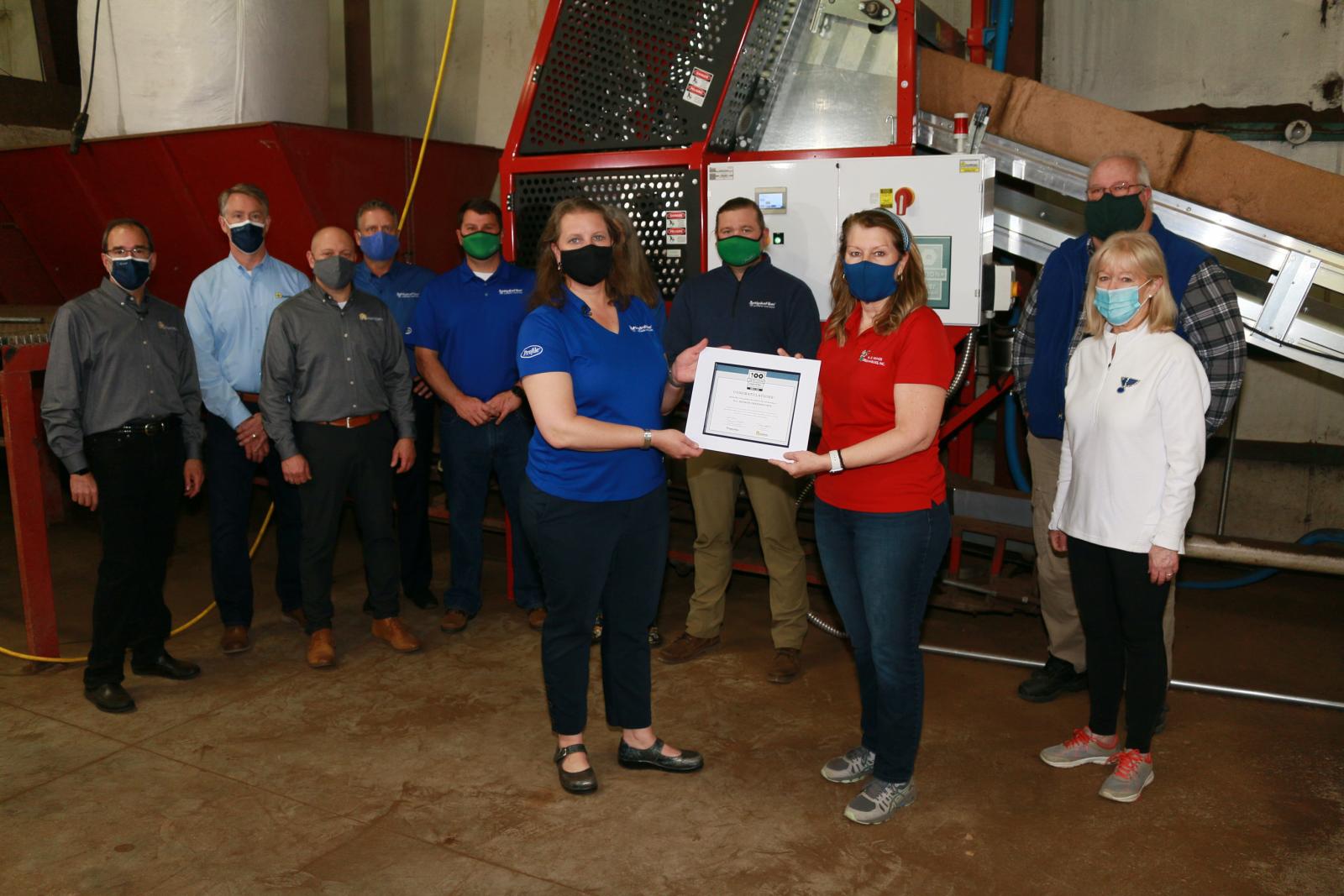 "We are excited to get the talented team at N.G. Heimos up and running with HydraFiber," said Jennifer Neujahr, director of business development. "But this milestone is also a celebration of every operation that has made the transition to HydraFiber and showed others that they can grow better plants and better margins, too. They've helped us to become game changers in the industry. HydraFiber is no longer 'new.' It is a proven technology used day in and day out by growers looking to improve their soil and media program."
"After trialing, we saw firsthand that HydraFiber is an effective product that not only reduces risk because it's made in the US, but it also improves operational efficiencies and lowers production costs," said Amy Morris at N.G. Heimos. "It has been a lifesaver for us this year because of the scarcity of raw materials. We've been able to dial up our rate of HydraFiber to replace other materials that were unavailable, allowing us to keep our production running when we otherwise wouldn't have been able to due to lack of other raw materials used in our soil blends."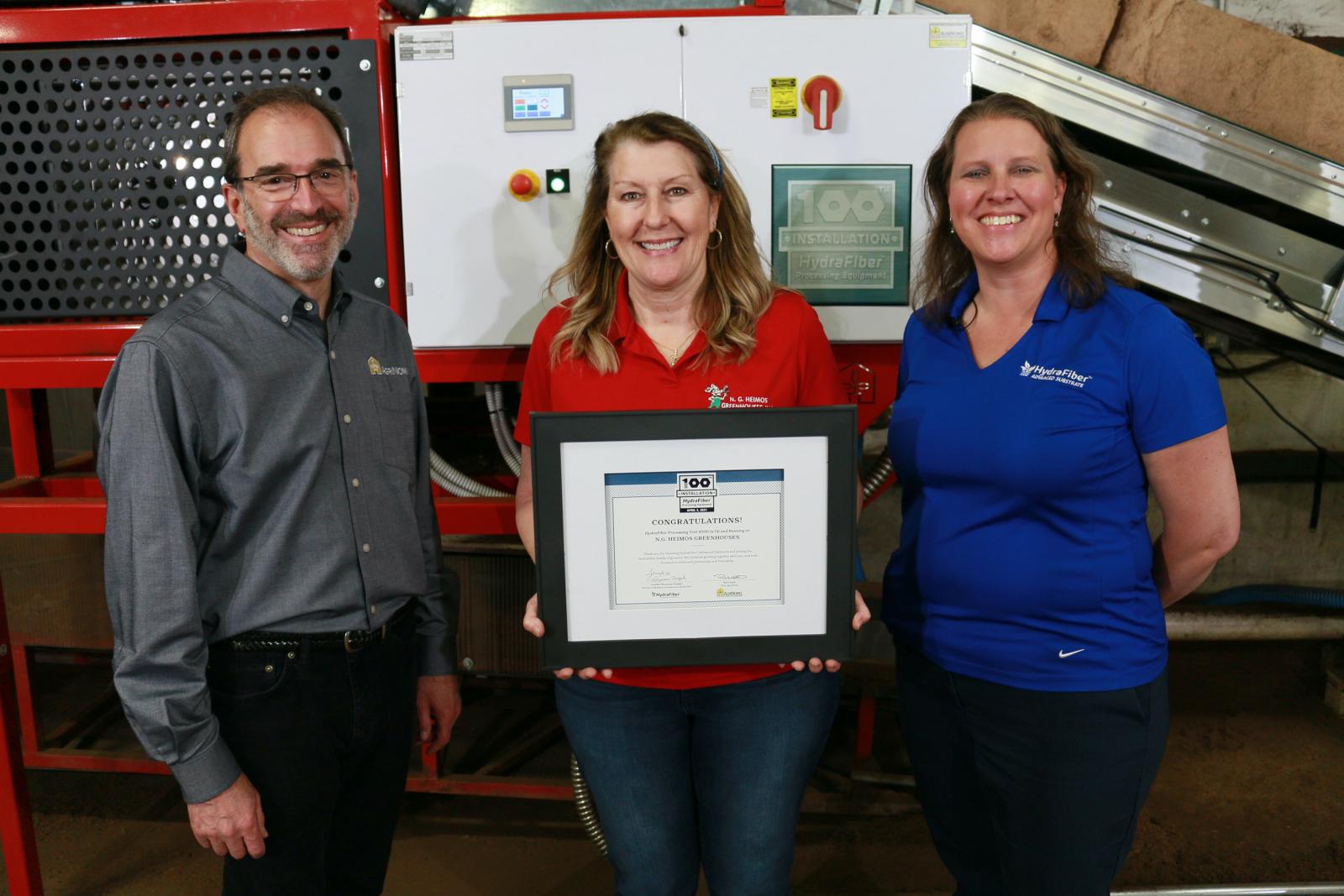 HydraFiber's machinery, developed in partnership with AgriNomix, comes in several configurations:
HydraFiber Expander Unit for growers with one to two planting lines
HydraFiber Processing Unit for regional blenders and growers
Extra Wide HydraFiber Processing Unit for high-capacity blenders and growers
"Working through these 100 installations has been great," said Robert Lando, CEO of AgriNomix. "While every installation was different, we simply took stock of each grower's existing machinery, then our 3D design team worked up an implementation plan that incorporated the HydraFiber Processing Unit within the available footprint. Our field service technicians were key to incorporating both new and old machinery into fully integrated systems. We are very grateful to everyone involved in the first 100 installations, and we look forward to the next 100."
In addition to these 100 machines, growers are also finding success with HydraFiber's tower and EZ Blend formulations, which require no specialized equipment. Leading blenders are incorporating HydraFiber into a growing number of pre-mixes as well.
HydraFiber products are developed and marketed by the horticultural business of Profile® Products, the world's leading global provider of soil and water management solutions.
ABOUT AGRINOMIX
As leaders in horticulture automation, AgriNomix assists nursery and greenhouse growers in making their operations more efficient and productive by providing integrated solutions that range from standalone production equipment to "one-of-a-kind" production lines. For more information call (440) 774-2981, email info@agrinomix.com or visit agrinomix.com.
ABOUT N.G. HEIMOS GREENHOUSES
N.G. Heimos Greenhouses was founded in 1951 by Norwin and Shirley Heimos. It expanded into Millstadt, Illinois, in 1985. Heimos Greenhouses is in the Top 100 Growers and is the region's largest grower of annuals, perennials and indoor blooming. We are a family-owned and operated business for the 3rd generation. The companies include Micky Minis, Millstadt Young Plants, Shirwin Farms and Millstadt Garden. N.G. Heimos Greenhouses continues to grow and supply our customers with superior quality and service.